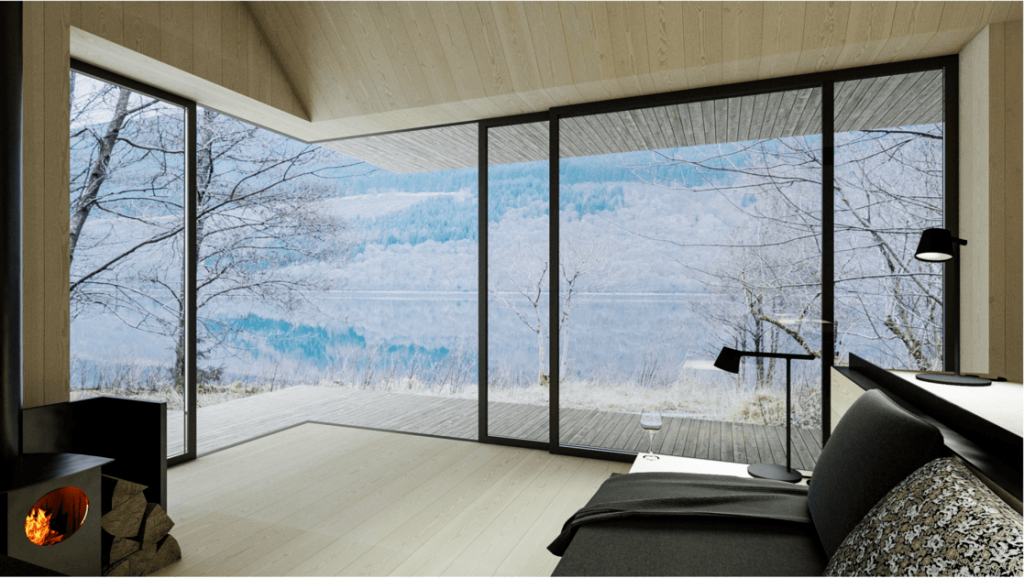 LUXURY CABINS
Set in private and unique locations, Kabn Company has created a luxury off-grid experience enabling guests to escape the hustle of everyday life and relax, alone, in nature.
Bespoke, architecturally designed cabins featuring wall to ceiling glass, sustainable materials and a minimalist interior provide the perfect base to enjoy the beauty of the surroundings.
KABN SUITES
Our luxury cabins have been designed to immerse guests in the natural surroundings, whilst maintaining privacy, seclusion and tranquillity.
The décor incorporates Scandinavian minimalism and contemporary design, neutral tones paired with premium materials. Environmentally sustainable products have been carefully considered and used throughout.
MASTER ONE-BEDROOM LOCH VIEW SUITE
Each 27 sqm Suite boasts soaring ceilings with stunning loch views from the full height glazed facades. The bedroom features a king-sized bed with an ensuite bathroom offering separation from the main living area. Kabn Company provides luxury accommodation unlike anything else you will find on the West Coast of Scotland. Each cabin is located just a few steps from the loch shore, providing you with direct access to your own private beach. With only two cabins set over 100m apart, guests can enjoy greater privacy and tranquillity.
There are two subtle variations of the cabin suites. One is in a landscape orientation with a glass corner, the other a portrait orientation with a glass pitch, they feature the same internal floor space and amenities.
AMENITIES
At Kabn Company we want to provide you with a number of luxuries that make your stay just that little bit more special. From providing paddleboards and yoga mats to a fully stocked spice rack, we want to make your stay as relaxing as possible so that you feel at home.
| Indoor | Outdoor | Included Treats |
| --- | --- | --- |
| Indoor Living and Dining Area | Terrace | Cooking Ingredient Basics |
| Bathroom incl Shower | Unrestricted beach access | Dried Herbs & Spices |
| Wood Burning Stove | Parking next to the cabin | Organic Wash Products |
| Breakfast bar/work desk | Outdoor Fire Pit | Organic Fair Trade Linen |
| Comfy Living Room | Grill for Outdoor Fire | Wood for the fire(s) |
| Kitchen incl Fridge | Paddleboard / Yoga Mat | Chemex Coffee |