ECO-FRIENDLY LOG CABINS
Committed to preserving the environment, all of our log cabins have been given names from nature. Named after the beautiful birds we love, their individual characteristics and delightful quirks have found their way into the hearts of our guests time and time again. And since we never compromise on the comfort of our guests, nothing at Eagle Brae is mass-produced.
The same loving care and attention fills every space. Modern appliances, complimentary Wi-Fi, family areas and a dedicated office space ensure our guests want for nothing from the moment they arrive.
PET-FRIENDLY ACCOMMODATION
We welcome dogs to all 10 of our Highland log cabins, so the whole family can come along. Our own Bernese Mountain Dog is a familiar face around here. And she's always happy to make some new friends. So, bring your own dogs along and you can take a luxurious holiday in the Highlands without leaving anyone behind. Our dog-friendly log cabins in Scotland have everything you and your furry friends need … and more!
GUEST SERVICES
At Eagle Brae, we want all our guests to do less and relax more, which is why we offer guest services. We have a wonderful Intranet service that allows you to order groceries, wine, quality meats and a choice of delicious home-cooked meals online – all delivered to your door.
We have a selection of red, white and rosé wines to suit just about any palate. In addition to our own rare-breed Berkshire pigs and traditional Hebridean four-horned sheep, we offer wild venison (both red and roe) sourced from the surrounding forests and hills. A selection of frozen cuts is always available, and messages will be posted on the Intranet when fresh meat is in stock.
Simply log on, place your order and we will take care of the rest.
HIGHLAND ACTIVITIES AND ATTRACTIONS
Bird watching, camera stalking, pony trekking or a Black Grouse safari is the perfect way to spend a day in the Highlands for animal lovers. For our more adventurous guests, kayaking or canoeing along the Rivers Farrar and Glass, or dog-sledding round our very own track, is just the ticket. A round of golf on a nearby championship course is always well above par, while angling for glory on some of Scotland's best waters will have you hooked on fishing in no time. No matter how you choose to spend your days, there are so many things to do in the Scottish Highlands. And there is something for everyone at Eagle Brae.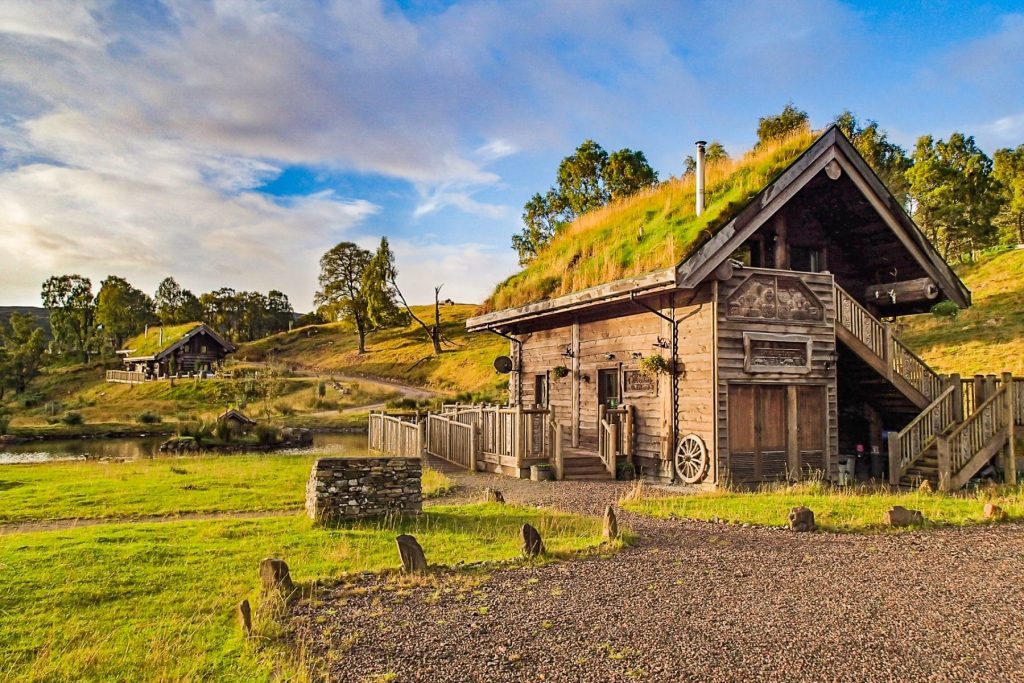 DESCRIPTION
Perched atop a magnificent hill overlooking the glen below, each and every one of our beautiful Highland log cabins is sustainable and lovingly hand made. Hand-carved Himalayan wood carvings adorn the interior, while giant red cedar logs sustainably sourced from British Columbia seamlessly blend into the surrounding wilderness. Built with the environment in mind, grass insulated roofs and eco-friendly wood burners only add to the unique charm that is Eagle Brae.